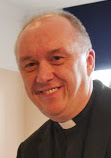 Dear Friends,
Just wanted to let you all know that I'm thinking and praying about you, the community of PACT, your family and friends over this unknown and uncertain times. I hope you are all keeping safe and well. It certainly has changed lots to our lives, yet at the heart of everything remains love, the love for each other and above all the love and peace of Christ. May this be your experience in the days and weeks that lie ahead. Please know that you are being thought of and prayed for today and may you feel and know that love deep within you.
The doors of the house where the disciples met were locked (John 20.19).
Ever present God,
be with us in our isolation,
be close to us in our distancing,
be healing in our sickness,
be joy in our sadness,
be light in our darkness,
be wisdom in our confusion,
be all that is familiar when all is unfamiliar,
that when the doors reopen
may we with the zeal of Pentecost
inhabit our communities
and speak of your goodness
to an emerging world,
For Jesus' sake,
Amen
With my love and prayers,
Graham.