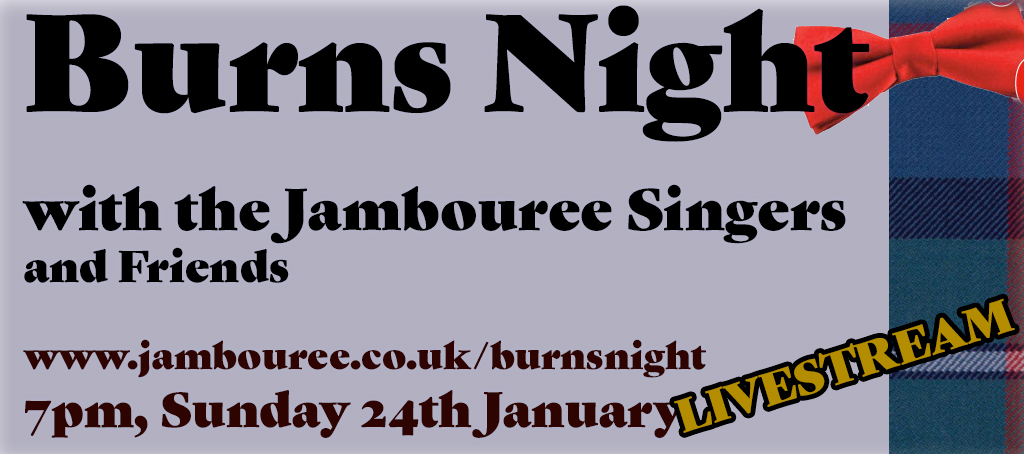 (a) The recipe book produced by Scone and St Martin's Church has gone into a reprint, and there are always new recipes appearing on their website – worth a look!
(b) The Jambouree Cabaret Singers are hosting a virtual Burns Supper, this coming Sunday 24th at 7p.m. to which all are welcome. The link to tune in is: www.jambouree.co.uk/burnsnight Have your whisky, Iron Bru or wine ready to toast The Bard!
(c) Quaker meeting this Friday 22nd at midday to mark the coming into force of the Treaty on the Prohibition of Nuclear weapons – see separate e-mail for details.
(d) Marcia Mackenzie passes on the regrets of the World Day of Prayer group who are unable to provide a live service this year on 1st Friday in March. If anyone would like to have a copy of the service book please contact her on mackenziem70@gmail.com. There will be an on-line service; details to follow.
(e) Sarah Lawson renewed her appeal for new Board members for Harbour Counselling Service – please alert members of your faith community who might be approached. I have attached their appeal again to this e-mail.
(f) Fraser Hunter told us that Skinnergate is getting busier; the mental health toll of the pandemic is becoming ever more obvious and he requests prayer for all involved.
(g) Marjorie explained that the Foodbank is currently very well off for food, and in fact space is at a premium for storing it. Instead, please consider donating toiletries, washing powder, washing up liquid or even face masks – all non-food items which people still have to buy. The Foodbank is becoming very busy.
(h) Similarly, Wilma Coleman said that the Giraffe Foodshare in Mill Street is meeting a real need with 28 people there on Monday – some come just for the chat and socialising.
(i) Neil Stewart reported that after 26 years, the North Church's "Open Door" has closed for the last time, though he is confident something else will appear in its place. Rev Grant Mclauchlan has indicated that he will be leaving Tulloch Net at the end of June, and his replacement is being sought. (We send best wishes to Grant for his future.)
(j) Kathryn Howe thanked everyone who supported the Salvation Army appeal at Christmas time. They continue to have their Drop In facility. Their Furniture Project is relocating to the James Barclay building in the Glasgow Road. And they have successfully recruited a Community Manager for Perth.