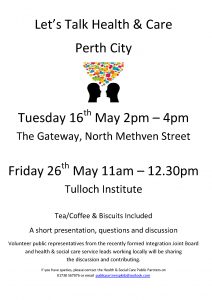 Let's Talk about Health & Care in Perth & Kinross
Health & Social Care in Perth & Kinross has been undergoing changes over the last year with an Integration Joint Board is overseeing business. There are volunteer Public Partners on the board as stakeholder members. There are two principals and two reserves. Ann Gourlay and Sue Cole are carrying the user voice while Bernie Campbell and Maureen Summers speak for carers.
The Public Partners are planning visits to many areas of Perth & Kinross to talk about their role on the board and some of their activities in the previous year.  The redesign of Health and Social Care Services has created increasing opportunities for both people who use services and unpaid carers to be more actively involved in shaping these changes.
As representatives of both users of services and unpaid carers they are really keen to hear the views of a wide cross section of people who live in the Perth and Kinross area.
Please come along to one of these events to make your experience known.
| | | | |
| --- | --- | --- | --- |
| The Gateway, North Methven Street | Perth | Tuesday May 16th | 2pm to 4pm |
| Atholl Centre | Pitlochry | Monday May 22nd | 12.30pm for  1.15pm start |
| Kinross Day Centre | Kinross-shire | Tuesday May 23rd | 2pm to 4 pm |
| Inchture Village Hall | Carse of Gowrie | Wednesday May 24th | 12 noon to 2pm |
| Tulloch Institute | Perth | Friday May 26th | 11am to 12.30pm |
| Strathearn Art Space | Crieff | Tuesday May 30th | 2pm to 4pm |
| Blairgowrie Town Hall | Blairgowrie | Wednesday May 31st | 11.30am to 1.30pm |
| The Y Hall | Coupar Angus | Wednesday May 31st | 3pm to 4.30pm |
If you can't make that date and want to explore other ways to get involved, including an election of User representatives on the board in June,  please get in touch.
Locality Managers from the Perth & Kinross Health & Social Care Partnership will also attend. We hope there will be good sharing of experience, hopes and concerns as our population health and needs change.
If you have queries please contact the Public Partners on 01738 567076 or email publicpartnerspkijb@outlook.com
Poster download here.